Company
ADS LAMINAIRE has been designing, manufacturing, and marketing laminar flow equipment since 1968. She has acquired a certain authority in this field thanks to her experience but also thanks to the quality and seriousness of her achievements and the services she offers to her customers.
ADS equipment meets the requirements of new techniques.
The ADS manufacturing range extends from dust-free storage boxes to standard or specific laboratory hoods.
In addition, ADS LAMINAIRE offers a range of clothing for dust-controlled rooms:
Gowns, coveralls, shoe covers, headgear, gloves, masks, class 100 cloths, cleanliness screen, and a range of absolute filters and pre-filters.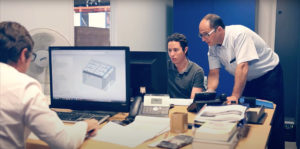 ADS LAMINAIRE is able to produce in its field any type of non-standard equipment that does not appear on this site.
In order to offer a service as close as possible to the needs of its ADS customers
LAMINAIRE has been ISO 9001 (2000) certified since September 2, 2008, for all of its activities:
"Design, manufacture, sale, maintenance, and testing of controlled dust and laminar flow enclosures for chemical hoods and distribution of clean room filters and utilities".
IN THE LABORATORY, IN PRODUCTION, IN THE FOLLOWING AREAS:
Hospital
Clinical
Medical research
Pharmaceutical
Para-pharmaceutical
Chemistry
Botanical
Agri-food
Microelectronic
Optical industry
Space
Military industry
Etc…